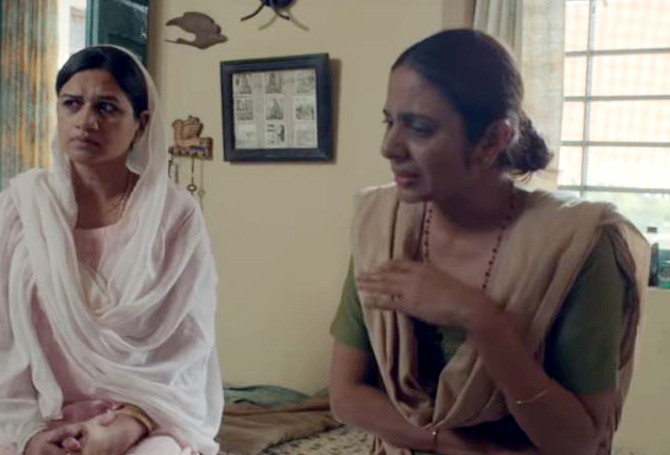 3 Storeys; released on 9 March 2018 is an Indian Hindi thriller drama film directed by Arjun Mukherjee starring Richa Chadda, Sharman Joshi, Renuka Shahane, Sonal Jha, Pulkit Samrat, Masumeh Makhija, Aisha Ahmed, Ankit Rathi and produced by Priya Sreedharan, Ritesh Sidhwani, and Farhan Akhtar.
Saibal Chatterjee of NDTV praised the performances of the actors specially Renuka Shahane but found the conclusion of the story to be weak. Lasyapriya Sundaram of The Times of India gave the film a rating of 3.5 out of 5 saying that "3 Storeys cleverly demonstrates the art of skillfully telling a story wherein all the loose ends of a plot are tied together into a neat whole."[5] Udita Jhunjhunwala of Live Mint reviewed the film saying that "Arjun Mukherjee's film has some convincing performances but is tonally inconsistent."
As the mother of Malini, Sonal Jha justifies her role in 3 Storeys. The character resides in a Chawl and encounters an unprecedented incident.
Some time camerawork fails to capture the nuances an actor creates around the character. Unfortunately, this did happen to Sonal Jha in 3 Storeys.
In an intense moment, while Sonal Jha engrossed emoting deep-rooted agony of a helpless female in a bizarre situation, where she has to succumb to the sexual advances of a trustworthy neighbor in return of some petty cash, the camera was busy exploring room details rather than focusing and capturing her emotive self.